Newry: A pleasant town in Northern Ireland with a long history
Newry Town Hall
This evening, I am posting information on the Northern Irish town of Newry in County Down. Location is about forty miles S.W.of Belfast.
Summary facts and information as follows:
The name is derived from a corruption of the Gaelic term for a yew tree planted by St. Patrick.
A castle existed in medieval times. This was destroyed and re-built many times culminating in a 1578 re-build by Nicholas Bagenal who is accredited as the founder of the town from which modern Newry grew. Bagenal was also responsible for building the (Protestant) Parish Church of St. Patrick.
Newry was severely damaged by fire caused by forces loyal to the Catholic King James II in 1689 but was subsequently re-built with a focus on port and trade facilities which in turn generated wealth to finance fine buildings which are evident today.
The (Catholic) Cathedral of St. Patrick and St. Colman is built in the Perpendicular style and dates from 1829.
The Town Hall is built on a triple arch bridge over the River Clanrye.
A flax spinning industry was developed in the second half of the 19th century.
Today, Newry (with Bassbrook) has a population of about 30,000 and is known for its shopping, entertainment and dining facilities.
Hill Street, Newry
Cathedral Quarter, Newry
St Patrick and St Colman Cathedral
Hill Street, Newry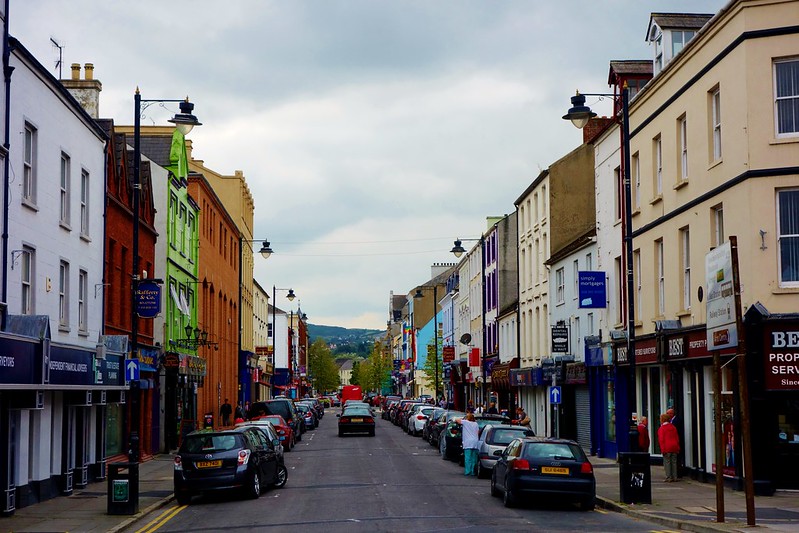 Heron in River Clanrye, Newry